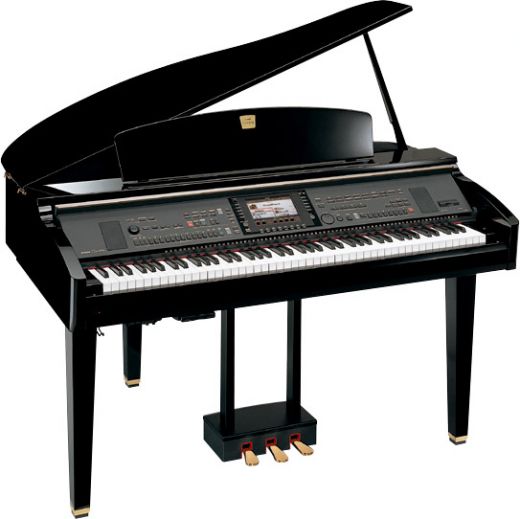 With its gorgeous, realistic sounds and beautiful elegant appearance, the CVP-309GP provides all the musical enjoyment of a real grand piano. The incredibly natural voices and dynamic styles deliver truly professional quality sound, while the advanced, comprehensive features – including Internet connectivity and full song recording/playback functions – make this one of the most sophisticated yet easy-to-use musical instruments you'll ever lay your hands on.
Moreover, the CVP-309-GP radiates the impressive, commanding presence of a grand piano. Featuring both a finely finished grand piano style polished ebony cabinet and a new fallboard that incorporates the panel controls inside, this instrument looks every bit as good as it sounds.
It utilises the Natural Wood Keyboard feature, with real wood keys and sophisticated technology that reproduces the experience of playing an actual acoustic grand piano.
Brand : Yamaha
Model : CVP-309-GP
Dimension : 45.3″(D) x 56.5″(W) x 54.5″(H)
Weight : 118 kg
Finishing : Black Polished
Keys : 88
Key Board : Natural Wood
Pedal : 3
Touch sensitivity : Hard2/Hard1/Normal/Soft1/Soft2
Tuning : NA
2-Way Delivery within working hours
Manpower service
1 Full Day Piano Rental
Adjustable Piano Chair
Caster Cups
Additional cost if these services is required
Overtime delivery: SGD 150 /way
Stairways Charges: Starts from SGD 80